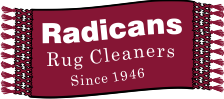 Custom Fit Rug Pads in Tulsa, Oklahoma.
Stop by our shop and pick up your custom cut rug pad today or call to request that we deliver and install your new pad in your home.
Helps to Protect Your Floors
Our custom cut rug pad will help save wear on your flooring by reducing friction between your rug and the floor. Our Moisture Barrier Protection in our Premium pad helps prevent spills and pet accidents from soaking through to your flooring and causing permanent damage.
Helps to Prevent Slips and Falls
Our non-slip rug pads can help keep your rugs in place and flat to reduce the risk of tripping over wrinkled rugs.
Reduces Noise and Adds Comfort
Add plushness and comfort to your rugs. Choose from several thickness options to suite your needs. The extra padding also helps to reduce the sound of walking on your rugs.
We Custom Cut Rug Pad to Fit
Radican's Rug Cleaners provides custom cut rug padding for your rugs. Having a quality pad under your rugs helps extend their life, keeps the rug in place to prevent slipping and falling and helps protect the floors under the rug by filtering away tracked-on gritty soil. Having top of the line rug pad is the best thing you can do to extend the life expectancy of your area rug.
We refuse to sell any rug pad that is made out of toxic chemicals, clay, and adhesives as they damage the flooring underneath the pads.
<!—13. DO I NEED A RUG PAD—>
Protect Your Rugs and Floors with Our Custom Cut Rug Pad
Premium/Secure Pad has been manufactured as a firm Synthetic fiber coated with a non-skid rubber backing
Holds rugs firmly in place with 100% surface contact
Will not stain, discolor or mar your carpet or floor
Non-Toxic & Non-Allergenic
Extends the life of your rug by protecting from hard or abrasive flooring
Our only rug pad available in four widths. 6′, 8′, 10′, & 12′
Recommended Usage – Use over all hard surfaces including ceramic, marble, terra-cotta and concrete at 36 oz/sq yd.
Foundation

 

is 1/16″ and includes felt and rubber
High quality rubber with a high concentration of pure latex
Good Hold
Washable
Does NOT provide cushioning.
Recommended Usage – Ideal for navajos, silk rugs, small rugs that move. 10 oz/sq yd.
Guaranteed Not To Move
Our custom cut rug pad is guaranteed to keep your rugs from moving or your money back.
If within 14 days of your original purchase you are not satisfied you may return it for a refund.